Column Internals
Raschig USA can provide internals for your column – Mist eliminators, liquid distributors/redistributors, support grids, and hold down plates are offered.
If you need a quote, please do not hesitate to email us at info@raschig-usa.com or visit our contact us page.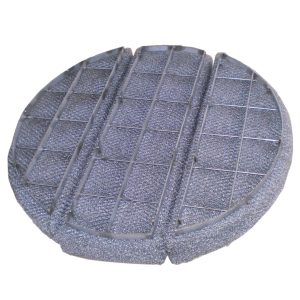 Mist eliminators (Or Demisters) serve a purpose just as their name would imply – They capture mists that may form in a column. Mist eliminators function to reduce droplet entrainment exiting a column through the use of inertia. Undesirable droplet byproducts can be kept within a column with the use of a mesh eliminator.
Pictured is a mesh pad type mist eliminator with support grids. Mesh pads can capture droplets down to 10 microns. Mist eliminators also exist in a chevron type, which has lower pressure drop than a mesh pad, but also is not as efficient at droplet capture. We would love to talk more with you about your particular application.
Liquid Distributors and Liquid Redistributors
Liquid distributors are used above a packed bed to provide an equal distribution of liquid to the packing. Maldistribution can impact the efficiency of the column drastically, and liquid distributors are meant to ease some of those effects. Sometimes the use of a redistributor is beneficial in taller columns to reduce any maldistribution effects from longer flow pathways. We would love to talk more with you about your particular application.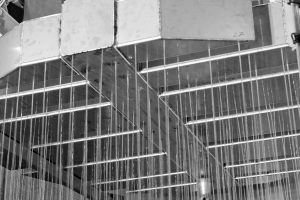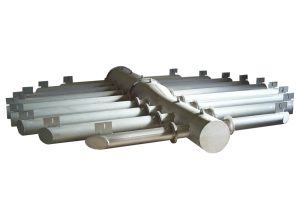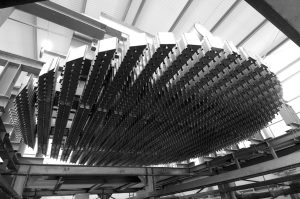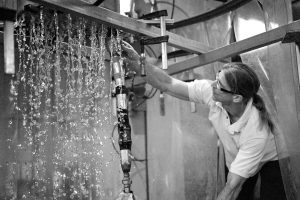 Support Plates and Hold Down Plates
Support plates are meant to provide a surface for packing to rest on. Hold down plates help to keep packing in place.
Support plates can offer higher open surface areas than may originally be anticipated – even 100%+ open. This is accomplished by utilizing space in all three dimensions (Better described in the images below). This can help ease pressure drop concerns for high flow rate processes.
Without a hold down plate, it is possible to lose packing to processes downstream of the column. This is not a common occurrence, but it has occurred in certain processes. Hold down plates keep packing contained to the inside of the column by resting on a packed bed and resisting the vertical force from the gas phase. We would love to talk more with you about your particular application.